Boston College Radio, Chestnut Hill, MA
Student-run radio station at Boston College, Chestnut Hill, Mass. USA
Sep 23, 2022 2:00 AM – 7:00 AM
unset
With bot bot
We begin the program tonight with a short set of experimental music from Florida, hand picked by the bot's assistant.
The fifth song of the program is the bot's idea: Somniat Praeterita by ProtoU (Sasha Puzan.) That's our Ukrainian song of the day.
In the early days of the war, Sasha fled the country with her young son, but last we heard, the two of them returned to Kyiv and reunited with Sasha's husband Oleg (aka musician Dronny Darko.)
After playing ProtoU, the bot is in control and anything can happen....
ProtoU
Ah, the bot decided to play a song by another Ukrainian female experimental musician (there aren't many.) At 3 AM, hear Bombas by Bryozone (aka Ganna Bryzhata.)
Bryozone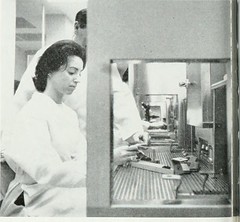 2:00 AM

Little Bunny Was So Happy: Experimental Music From Florida

Ilse

2012

2:01 AM

Brooke Chekofsky

If I Can Only Reach

Dichotomy of Memories

Ilse

2011

2:02 AM

Paulo Chagas

Maybe Next Year

Little Bunny Was So Happy: Experimental Music From Florida

Ilse

2012

2:07 AM

Benjamin O'Brien

secondOrderConstellation

Little Bunny Was So Happy: Experimental Music From Florida

Ilse

2012

2:11 AM

ProtoU

Somniat Praeterita

Memory Alpha

Cryo Chamber

2022

2:17 AM

2:27 AM

The Velvet Underground

Venus In Furs

Lou Reed

Gold

Universal Music

2005

Rock

2:33 AM

Watch Take Care

WMG - Mute Records Ltd

2014

2:41 AM

2:48 AM

10 000 Russos

A House Full Of Garbage

Station Europa

Fuzz Club Records

2021

2:53 AM

Playing with Fire

Taang

1989

2:59 AM

SESTRO

система system

2022

3:02 AM

Revolutionary Army of the Infant Jesus

Toujours pour la première fois

3:03 AM

Consolidated - EP

WMG - Nettwerk Records

1989

3:09 AM

3:14 AM

The Exotic Sounds of Martin Denny

ORCHARD - Poppydisc

2016

Jazz

3:18 AM

Jupiter Tuning Center

Space Twinkey Dub

Biography: Raymond Scott

Classical

3:20 AM

Ancient River

Snake Dreams

O.D.D.S. 3

Ancient River

2022

3:24 AM

Rik Rue

Voices From the Inner Ear

3:27 AM

From Here To Tranquility, Vol. 7

Silent Records

2016

3:30 AM

The Ex

Cold Weather Is Back

Catch My Shoe

Ex Records

2010

3:37 AM

3:42 AM

Edward Ka-Spel

Dream Stealer

The Singles (Remastered)

Trademark Of Quantity

2017

3:46 AM

Glum (25th Anniversary Edition)

Fire Records

2011

Rock

3:51 AM

Orbital(오비탈)

Desert Storm

Desert Storm

WMG - LMS Ltd.

2017

4:00 AM

The Pop Group

She Is Beyond Good And Evil

Y (Remastered & expanded)

Rhino

1999

4:03 AM

Arlo (Remastered)

ORCHARD - Rising Son Records

1968

4:08 AM

Arlo Guthrie

The Pause of Mr. Claus

Arlo

Rising Son Records

2013

4:11 AM

4:13 AM

Selva

Fuzz Club Records

2020

4:19 AM

Daniel Johnston

Life in Vain

Life in Vain

WMG - Atlantic Records

1994

4:22 AM

The Tear Garden

Hyperform

The Last Man To Fly

WMG - Nettwerk Records

2009

4:28 AM

Emerge

Capitol Records

2003

4:32 AM

Bunny Wailer

Armagideon (Armagedon)

Blackheart Man

UMG - Island Records

2002

Reggae

4:39 AM

Magic Shoppe

Shangri-La in Reverse

L

Triangulum Australe

BELIEVE - Optical Sounds

2012

Rock

4:43 AM

Mission Of Burma

This Is Not A Photograph

L

This Is Not A Photograph

WMG - Matador Records

2020

4:45 AM

Thee Headcoat Sect

Cowboys Are Square

Deerstalking Men

Damaged Goods

2006

Rock

4:47 AM

Mohammed Wardi

Al Sourah (The Photo)

Two Niles to Sing a Melody: The Violins & Synths of Sudan

Ostinato Records LLC

2018

4:56 AM

Greenlander

MERLIN - Matador

2002

5:00 AM

Ramones

Sheena Is a Punk Rocker

100 Greatest Driving Songs

Rhino

2017

5:02 AM

Fun House

BELIEVE - Heavy Metal Records

1970

5:09 AM

Anne Clark

The Sitting Room

Anne Clark

The Sitting Room

After Hours Productions

2013

5:11 AM

Simply Saucer

Here Come The Cyborg pt. 2

Soul Jazz Records Presents PUNK 45: Sick On You! One Way Spit! After The Love & Before The Revolution: Proto-Punk 1969-77

MERLIN - Soul Jazz Records

2014

Rock

5:18 AM

Sad Lovers & Giants

Clint

Clint

WMG - Cherry Red Records

2019

Rock

5:22 AM

Hypnotized

Sacred Bones Records

2014

Rock

5:26 AM

The Speed Of Cattle

Alias

2007

Rock

5:30 AM

Desmond Dekker

007 (Shanty Town)

The Harder They Come

Universal Music Ireland Ltd.

1972

5:32 AM

Johnny Winter

Birds Can´t Row Boats

Electric Blues Hits

Novoson SL

2017

Rock

5:35 AM

28 Degrees Taurus

Electricity

All the Stars in Your Eyes

28 Degrees Taurus

2011

Rock

5:39 AM

Rabbit Rabbit Radio

Hello Cat Lady

L

Rabbit Rabbit Radio, Vol. 2: Swallow Me Whole

Rabbit Rabbit Records

2014

Rock

5:43 AM

Slip In And Out Of Phenomenon

MERLIN - Domino Recording Co

2008

5:47 AM

Batala

Mini Records

2010

World

5:50 AM

5:54 AM

The Undertones

Male Model

Male Model

WMG - Union Square

1979

Rock

5:56 AM

Legendary Pink Dots

Fourth Secret

Maria Dimension

Caciocavallo

2001

Rock

6:00 AM

King Missile

Heavy Holy Man

Mystical Shit/Fluting on the Hump

Instinct Records

2004

6:02 AM

X

When Our Love Passed out on the Couch

Wild Gift

WMG - Rhino/Slash

1981

6:04 AM

Blitz

Teletron (Bonus Track)

Teletron (Bonus Track)

WMG - Cherry Red Records

2018

Rock

6:07 AM

Al Lover

A Shaman's Hand is Infinite

Sacred Drugs

Crash Symbols

2014

6:10 AM

Minutemen

This Ain't No Picnic

Double Nickels On The Dime

SST Records

2006

Rock

6:12 AM

Guided By Voices

Big Chief Chinese Restaurant

Alien Lanes

Matador

1995

Rock

6:13 AM

The Teardrop Explodes

Poppies In The Field

Kilimanjaro

UMG - Island Records

2009

6:18 AM

David Bowie

Speed Of Life

6:21 AM

Blue Blue Blue

Mother and Father

Peclusallucination

C'est La Mort

U.K.

1989

CD

Rock

6:25 AM

Ultimate Spinach

YOUR HEAD IS REELING

L

Ultimate Spinach

ORCHARD - Iris Music Group

2005

Rock

6:29 AM

Power Failure

MERLIN - Matador

2013

6:34 AM

David Kilgour

On Your Own

The Far Now

Merge Records

2007

6:37 AM

Magazine

Sweetheart Contract

The Correct Use Of Soap

Virgin Catalogue

2007

Rock

6:40 AM

Conceputol

The Space Invaders

6:43 AM

Nisi Period

Echo of Suggestion

L

Soon the Love Balloon Will Pop

Nisi Period

2012

Rock

6:47 AM

Combustible Edison

Les Yeux Sans Visage

L

Les Yeux Sans Visage

WMG - Subpop Record Group

2006

Rock

6:51 AM

Amenidades

ORCHARD - Deckdisc

2018

World

6:54 AM

The Glove

The Man From Nowhere (Alt Instrumental Mix)

The Man From Nowhere (Alt Instrumental Mix)

Rhino

2012

6:56 AM

Robert Fripp

Under Heavy Manners