Real People Real Radio
Tucson and Southern Arizona's Community Radio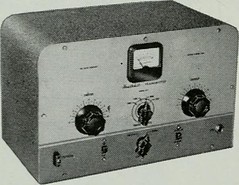 On air
Mar 21, 2019 10:00 PM – 11:55 PM
Music
With Julio Peña
A weekly mix of punk, post-punk, noise rock and more from the US/UK and beyond!
Back to the Usual
Best of Punk shows are done. Back to the usual!

10:53 PM

Blackouts

It's Clay Again

History In Reverse

K Records

2004

Under-rated 80s Seattle post-punk band. Three members of this band would go on to join AL Jourgenson in the initial version of Ministry.

10:47 PM

Catch My Shoe

The Ex

2010

Original vocalist GW Sok left before recording of this album. Arnold de Boer took over mic duties to less than positive reviews.

10:39 PM

Brainiac

1 Am a Crack3d Machin3

Hissing Prigs in Static Couture

Touch and Go Records

1996

Experimental band from Ohio. Once toured with and opened for The Jesus Lizard.

10:34 PM

Nervous Curtains

Wired to Make Waves

Fake Infinity

Latest Flame Records

2012

"A landscape of discarded metal baking on broken concrete foundations of abandoned buildings...carefree summers have given way to oppressive heat waves. Naive optimism and idealism have been shattered. There's a new beauty in the rubble. The world is at its end, and it's whatever you make it to be. 'Kill your dreams before they kill you.' Be grateful for the advice. This is certainly no beach party."

10:32 PM

Lady from Shanghai

Fire Records

2013

14th studio LP from the post-punk Cleveland band. Recorded after a six-year hiatus.

10:26 PM

Fad Gadget

Back to Nature

The Best of Fad Gadget

Mute

2001

Stage name of English musician and artist Francis John Tovey.

10:19 PM

Dead Rider

Just a Little Something

The Raw Dents

Tizona

2011

Experimental rock from Chicago, formed by US Maple guitarist Todd Rittmann.

10:12 PM

Paradise

Sacred Bones Records / Hostess

2016

Most recent release from this NYC post-punk influenced band. Name taken from a novel by the great pulp novelist Jim Thompson.

10:08 PM

Naomi Punk

Television Man

Television Man

Captured Tracks

2014

Olympia punk trio with their second studio LP.

10:03 PM

Psychic Mess

Run For Cover Records, LLC

2014

Debut LP from this Northern California band

10:01 PM

The Fall

Mansion (Remastered)

This Nation's Saving Grace (Expanded Edition)

Beggars Banquet

2010

It's time.